T3A:Online - The Return of BFME Multiplayer
T3A:Online is a custom online server for the Battle for Middle-earth series that integrates seamlessly into your BFME experience. It is developed and operated by The3rdAge.net, a modding community that predates the launch of BFME1. Once set up, T3A:Online allows you to log in through the game's online interface and play against other people through the Revora server, just like you could before EA shut down the official servers.
T3A:Online is currently only compatible with BFME1. A release for BFME2 and The Rise of the Witch-king will follow in the near future!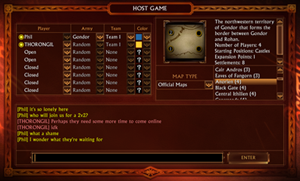 Features
What works:
Chat (in the chatroom, hosting lobby and in-game)
Hosting and joining games
Adding buddies and chatting with them (Ctrl+Enter)
What doesn't work yet:
Quick Match
Stats
Ladders
Setting up T3A:Online for your BFME
Choose your preferred setup guide: |
Registering an account
Register an account at Revora on the signup page. The username you choose here will also be your online account name (but you will be able to choose a different in-game nickname every time you log into T3A:Online). Validate the account by clicking the link in the e-mail sent to you.
Go into your user control panel and fill out the T3A:Online Password field at the bottom of the page. The password must be between 4 and 16 characters long and can contain letters and numbers only, no special characters like *!#+@&.
WARNING: The password is saved in plain text! Choose a completely new password. Do not re-use the password for your e-mail account, online banking, Facebook, etc.!
Installing the client
Patch the game to version 1.05.
Download the T3A:Online client installer from the download section.
Double-click the installer and follow the instructions there.
That's it! You're ready to go. Just launch the game, go into the online menu and log in with your Revora username, T3A:Online password (not your Revora password!) and a nickname that you can choose freely.
Support
Full support is provided in the T3A:Online support forums. Please make sure you have carefully read all information on this site before you ask a question because every minute spent on support is one minute lost for the development of new features.
Known Issues
Sometimes when I enter the chatroom, I cannot type anything.

Workaround: switch to another tab, wait 2-3 seconds and then switch back to chat.

New games don't show up in the Custom Match game list

Workaround: switch to another tab and then switch back to Custom Match
Frequently Asked Questions
What is T3A:Online?

T3A:Online restores the online functionality of the BFME franchise, starting with BFME1 before incorporating BFME2 and its expansion. T3A:Online is the simplest and cleanest way of playing BFME online as it is fully integrated into the original game and does little more than revive and redirect BFME online multiplayer onto a new and active server.

How can I start using T3A:Online?

Please read the setup instructions carefully.

What are the advantages of T3A:Online as opposed to using other software (GameRanger, Hamachi, Tunngle, etc.)?

The main difference between T3A:Online and the above mentioned programs is that T3A:Online is not third party software and is created exclusively for the BFME games. Once you've finished setting up T3A:Online, all you will ever have to do is start up BFME (or a modification) and navigate to the Online interface.

Can I use mods when playing online with T3A:Online?

Absolutely. T3A:Online is seamlessly integrated into your BFME game, and you can log in to our servers using whatever mod you wish. The community around T3A:Online started out as a modding community, and the T3A:Online Tournament forum contains subforums tailored specifically for a variety of mods. Remember that your opponent will also need to have the same version of the same mod installed!

Is T3A:Online compatible with third-party launchers (Desura, mod managers, etc.)?

Yes, there are no issues when launching the game using Desura or one of the many mod managers out there.

Is T3A:Online a paid service?

No. Registering at Revora, downloading the T3A:Online Installer, and logging into our server is and always will be completely free of charge. Of course we appreciate donations to keep our infrastructure running.

I lost my CD-key. Can I still use T3A:Online?

Yes, T3A:Online can not differentiate between authentic and forged CD-keys.

I never played on EA's original servers. Can I still use T3A:Online?

Yes. In fact, the creator of this software also never played on EA's servers :D